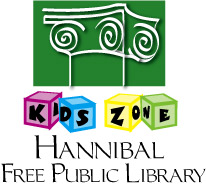 The Kid's Zone
PRESCHOOL STORYTIME

with Miss Jana
Tuesday 10:30am




READ & GLUE
(storytime and crafts ages 5-9)
Saturday 10:30am

BABIES & BOOKS

Every Thursday 10:30


KID'S MATINEE
2:30

1st Saturday of the month
G or PG-rated movies for kids of all ages

e-Books for e-Kids
Thank you for a 2018
ROCKIN' GOOD SUMMER!

Previous records were broken!

Congratulations to all!

Libraries Rock! Pictures

Libraries Rock2! Pictures

Libraries Rock3! Pictures

Libraries Rock4! Pictures

Libraries Rock5! Pictures

A special thank you to our Wonderful Sponsors who helped make the
2018 Summer Reading Program a success!!

AutoZone
Big Muddy BBQ
Bluff City Theatre
Chocolaterie Stam
Commerce Bank
Country Kitchen
Dairy Queen
Evening Kiwanis Citizenship Services Committee
F.A.C.T.
Fiddlesticks
Gabriella's
Hannibal Early Bird Kiwanis
Hannibal History Museum
Hannibal Lions Club
Hannibal Parks & Recreation
Hannibal Police Department
The Hickory Stick
James O'Donnell Funeral Home
Jeriod Turner
Jim Humphreys
Jon Obermann
Knights of Columbus No. 907
Mark Twain Museum
McDonald's
The Mississippi Marketplace
Pizza Hut
Red Hen Bookshop
Stephanie Fisher
Subway
Swiss Colony Data Center
Taco Bell
Twisted Juniper Yoga
Yummy's Donut Palace
Hannibal Free Public Library

EGG HUNT
2018

We had an EGGcellent time!!
Thank you for joining us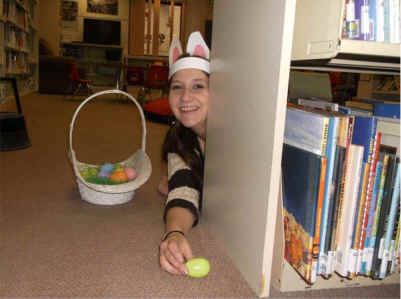 SUMMER READING 2017

Thank you all for a GREAT Summer!
Need some information?....

Try this library database
(for Registered Patrons)
For home access you will be prompted for your 10-digit barcode number located on the back of your library card.

Homework sites listed below are free:
Fact Monster.com
2016 Summer Events...Pictures! & Kickoff
2015 SUPER SUMMER PICTURES & SPONSORS
Mini Golf 2014
Mini Golf 2013
Mini Golf 2012
2016 Egg Hunt
1st Annual Egg Hunt
Summer 2014